is an architectural design and research studio bridging
material

and

social

interests.

We resee the material of the world around us to design with the unexpected, delightful, and overlooked. We cultivate the social possibilities of design to bring joy and fulfill common goals. We help reimagine the present toward better shared futures. Our work often explores housing, land use, and adaptive reuse:

October 2023
Wandering House
reaches a construction milestone with its structure and wood framing completed. Wandering House is an outward looking house that rethinks zoning logics to transform a typical backyard into a multifaceted courtyard.
August 2023
Zoning reform is transforming the way we build with land. Mass timber is transforming the way we build with materials. Could thinking of the two hand in hand update the post-war narrative of single family housing for our current climate predicament, while creating more diverse forms of desirable housing? Our proposal to explore this question receives the
2023 Timber Education Prize
and is currently underway through projects in Cincinnati and Los Angeles.
August 2023
Cincinnati is home to dozens of historic buildings in need of repair. Along with students at the University of Cincinnati College of Design, Architecture, Art, and Planning, we stage an exhibition revealing the forces shaping these buildings and inviting a collective rebuilding of the city through the Historic Structure Stabilization Program.
May 2023
In Cincinnati, there is a simultaneous need for more housing and community spaces and a need to reuse empty lots and structures. We are currently researching ways to bridge the two needs and will design a workshop for city residents with the support of a
UC Coalition for Change Grant
.
May 2023
Workshops can be designed to bring architectural tools and knowledge to new audiences. We co-author
an article in the Architect's Newspaper
on what we have learned through desgining the
Build a Chair = Reframe a House
workshop.
April 2023
Residents of Detroit are demonstrating new forms of building and land stewardship. Our coauthored essay "Stewardship as Ownership," published in
Riverwise Magazine
, calls attention to lessons learned after a year of conversations with Detroiters.
January 2023
Build a Chair = Reframe a House
kicks off as a workshop collaboratively designed with 1+1+ Architects and Extents for Detroiters renovating houses for themselves and their communities. Read more on
model D
.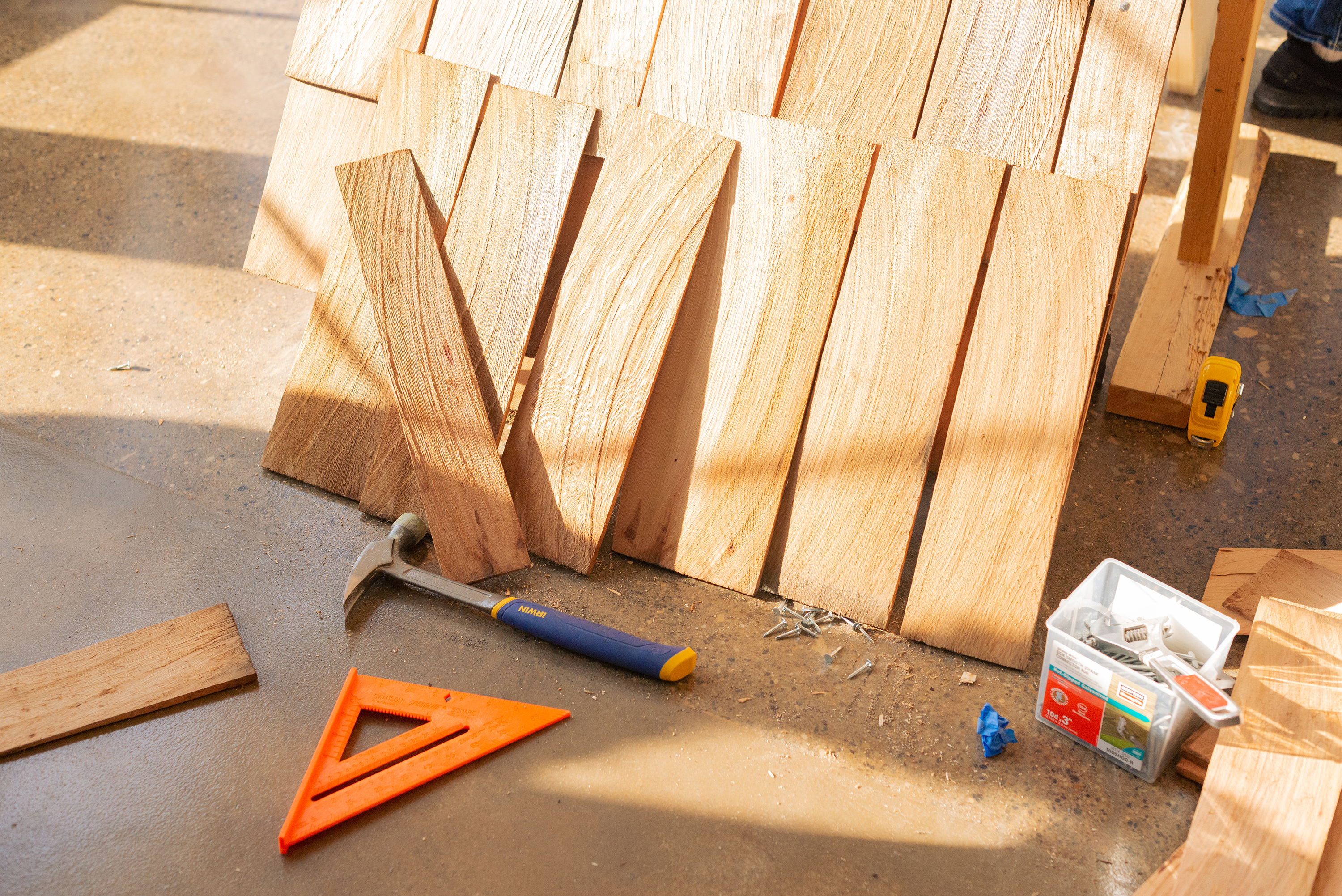 December 2022
As the Over-the-Rhine neighborhood in Cincinnati continues to grow, it needs more affordable housing and spaces for community organizations. We lead a course for students at the University of Cincinnati College of Design, Architecture, Art, and Planning (DAAP) designing buildings that combine both. The use of mass timber construction nestled within the existing historic fabric celebrates and gives visibility to these spaces and their ability to shape the neighborhood's future.
Project by Lauren McCarroll and Stephanie Circelli
November 2022

What coheres architecture? Our short piece posing this question in
Plat 10.5
is inspired by our study of single room occupancy housing, supported by the
Houston Design Research Grant
.
September 2022

Wandering House
, designed for artist Yi Kai and his partner Jian Zheng starts construction in Los Angeles. The house features plenty of outdoor space on a confined lot, all stitched together by a dramatic curving balcony that creates a courtyard out of a backyard.
August 2022
We are excited to join the University of Cincinnati College of Design, Architecture, Art, and Planning (DAAP) as Assistant Professor of Architecture, and co-lead the Simpson Center for Urban Futures.
June 2022
In Detroit, residents are using lots and structures obtained from the Detroit Land Bank Authority to create gardens, parks, community spaces, and housing. After initiating a year of conversations with Detroit residents and organizations, we document lessons learned in a co-authored essay titled "
Stewardship as Ownership
" for
Log Journal
.
May 2022
Building with timber can be rethought through networked relationships stretching across urban, rural, and natural environments. We lead a course for University of Michigan students traveling 1300 miles up the West Coast from Los Angeles to Vancouver, visiting buildings, institutions, timber mills, and forests.
May 2022
Building on a multi-year research effort into material reuse in Detroit, we apply for and receive an
Engage Detroit grant
along with Cyrus Peñarroyo and Laura Marie Peterson. The grant allows us to design and implement a workshop around the topic of house repair and reuse for Detroit residents.
September 2021
Caterpillar
debuts at the 2021 Detroit Month of Design. Caterpillar is a long-term pavilion built with 1+1+ Architects that supports the growth of a nature park in Detroit's Chadsey Condon neighborhood.
August 2021
Single room occupancy housing is being reinvented as an affordable housing model with generous shared spaces in Houston. Our essay in
Cite 102
explores the potential this creates for rethinking housing design.
May 2021
Creating more access to housing cannot be solved solely by building taller, but also through changing how we think of property lines and setbacks. Our design with 1+1+ Architects for a low-rise, high density housing solution for Los Angeles receives an honorable mention in the
Low Rise Housing Competition
hosted by the Mayor's Office of LA. The design advocates for a series of zoning adjustments that allow for more flexible and mutually beneficial use of indoor and outdoor space.